RAWALPINDI: Awami Muslim league (AML) chief Sheikh Rasheed Ahmed arrived at Committee Chowk on a motorcycle where there was a clash between police and protestors.
In a message to Prime Minister Nawaz Sharif, Rasheed said "Nawaz Sharif I said I would come, and I have arrived…arrest me if you can"
The AML chief demanded that Prime Minister Nawaz Sharif should present himself for accountability.
Rasheed told protestors that all roads leading to Lal Haveli had been blocked
Roads leading to Lal Haveli blocked by containers
Containers have been placed on roads leading to Lal Haveli, the residence of AML chief Sheikh Rasheed Ahmed.
Rawalpindi's administration has placed these containers to stop people from reaching Lal Haveli, where the AML chief is expected to hold a rally later today (Friday).
Sheikh Rasheed was not present at the Lal Haveli at the time the containers were placed, and in the morning had a rich breakfast of lassi and paya.
The AML chief has issued a challenge to the city's administration, and laid his plan out. "We will tear section 144 into 144 pieces after Friday prayers in Raja Bazaar, Committee Chowk and Lal Haveli."
Earlier while speaking to Geo News, Sheikh Rasheed said Chief Minister Punjab Shehbaz Sharif had issued orders to have him arrested before 2 PM, adding that he was ready to be arrested.  The AML chief told Geo News that he would offer his prayers and then address the rally at Lal Haveli.
Sheikh Rasheed said they would be using ladders to climb over the containers and reach the Lal Haveli.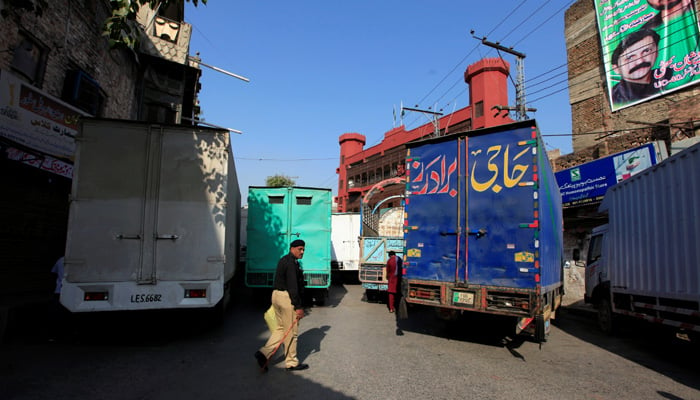 A policeman walks next to trucks, which used to block a venue of a planned protest gathering organised by Awami Muslim League
Section 144 imposed in Rawalpindi
Chief Secretary Punjab spoke with CPO Rawalpindi over the telephone. According to sources, the chief secretary said section 144 is imposed in Rawalpindi and rallies cannot be held.
The chief secretary added that no one would be allowed to take the law into their own hands.
CPO Rawalpindi said containers have only been placed in surrounding areas of Lal Haveli and Committee Chowk.

Motorcyclists pass through a gap in a barricade set up using shipping containers near the venue of a planned protest gathering organised by Awami Muslim League
Sheikh Rasheed speaks of breaking the law  
PML-N leader Zaeem Qadri said Sheikh Rasheed had announced he would break the law. Speaking to Geo News, the representative of the Punjab government said no one would be allowed to violate section 144.
"Whether it is Imran Khan or Sheikh Rasheed, no one will be allowed to violate section 144," Qadri said.
Zaeem Qadri added that Shekih Rasheed would be made a state guest.
Police, FC deployed outside Bani Gala 
The Deputy Commissioner has directed IG Police to take all measures and ensure that Imran Khan is stopped from going to Rawalpindi.
Roads leading from Murree Road to Bani Gala where the PTI chief resides have been closed. Large contingents of police and Frontier Constabulary personnel have been deployed.
PTI leaders Faisal Javed, Murad Saeed and MNA Aqibullah have also been stopped from going to Imran Khan's residence in Bani Gala. Speaking to Geo News Faisal Javed said the party had several plans in place. "We have plan b and plan c. We will announce our plan after a little while. People are ready and they cannot stop Imran Khan today. They cannot stop the preparations for November 2," Javed said.